Pro
You can purchase the Pro features at PRO FEATURES on the settings page.
Pro features
Sync to your Cloud
More photos and videos (up to 15)
Dark mode
Rich text mode (text colour, bold, underlining, etc.)
Mood and weather
Export PDF (beautifully laid out PDF style)
Location (statistics of places where diaries are kept)
Labels (statistical inclusion of different types of diaries)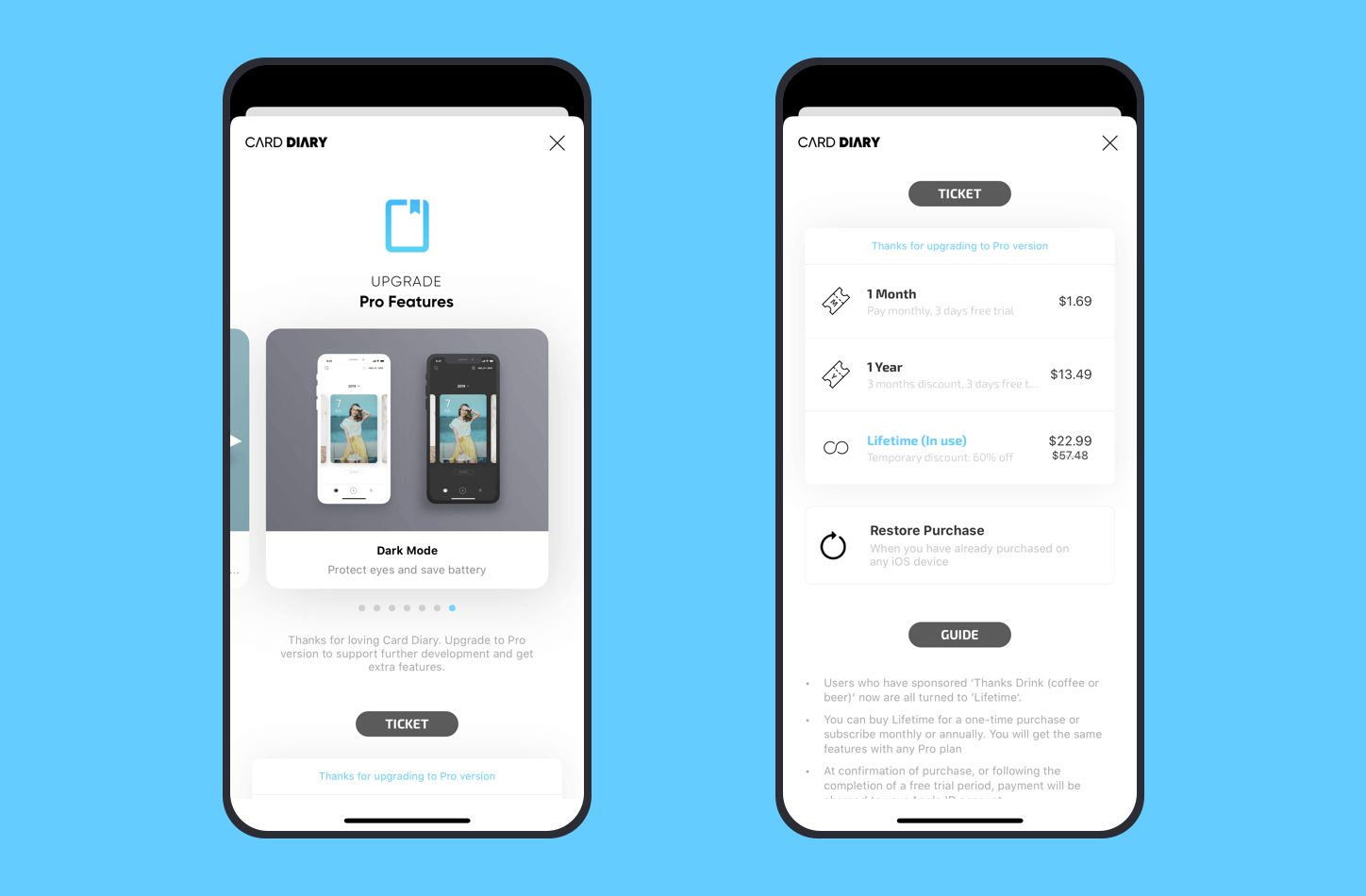 How to buy the Pro features
Please click on purchase directly on the Pro features page, the purchase process is very simple.
If you are experiencing problems with the payment process, please try to reboot your phone or contact us.
Monthly/annual subscription or purchase Lifetime
First of all, Subscriptions and Lifetime enjoy the exact same features.
Oak Diary subscriptions support both Monthly and Annual subscriptions.
Oak Diary also supports a one-time buyout in the form of a permanent buyout of the Pro features.
If you want to try out the premium version of Oak Diary, but don't want to pay for the Lifetime immediately, you can opt for a Monthly subscription, while also enjoying a three-day free trial, during which you won't be charged anything if you cancel your subscription in three days.
View or unsubscribe
iOS
iPhone and iPad users: check out Apple's official support: View or Unsubscribe - Apple Support
Android - Google Play
Android users who downloaded from Google Play: Cancel, suspend or change subscriptions on Google Play - Android devices - Google Play Help
Android - Others
Android users who download from other app markets: Oak Diary subscriptions are pre-filled on a monthly or annual basis. The purchase of one month will automatically increase the term of the premium edition by one month, and the purchase of one year will automatically increase the term of the premium edition by one year, which expires and then manually purchase the top-up.